Voodoo in Memory
Champ. Family Song's VOODOO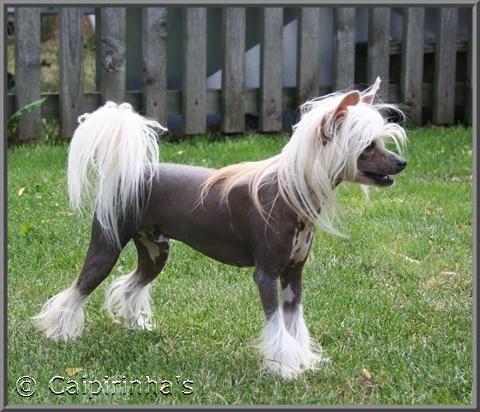 A good dog never dies -
he will always be present.
He roams besides you on cool autumn days,
when frost covers the fields
and winter is coming closer,
his head lies affectionately in your hand
like in the old times.
Champion Slovakia 2007 * Placed Third Best Chinese Crested Male Slovakia 2007 (Club) * Junior Champion Slovakia
prcd-PRA OptiGen® normal/clear, ECVO eye examination clear, Patella negative * full breeding confirmation Slovakia & Austria * out of breeding (neutered June 2013)
May 21, 2005 - September 23, 2018
Sire: Ch. ALBI Ga-He-Mi (International Champion, Grand Champion SR, Champion CR, SR, CH, GER VDH and Club, Country Winner CR 2004, Slovakia Winner 2004, Junior Champion CR)
DAM: Ch. GROTESKA Alexa Lachesis (Champion SLO, Club Champion SR, Best Bitch Slovakia 2002)
---
Voodoo's special success:
05/19/2009 - Voodoo's DNA Profile Information
09/22/2008 - Voodoo is clear of any eye disease (ECVO examination - Result Certificate)
09/22/2009 - Vodoo is Patella negative with the repeated check at 3 years of age (Result Certificate)
09/06/2008 - Voodoo is awarded Third Best Chinese Crested Male Slovakia 2007 (Club) (Diploma)
07/28/2008 - Voodoo is prcd-PRA OptiGen

®

normal/clear (OptiGen

®

certificate)
06/29/2007 - "Ch. BELLA STELLA Hot Chocolate" has 7 puppies after Voodoo (1 boy pp, 2 boys hl, 1 girl hl, 3 girls pp)
06/16/2007 - Voodoo is Patella negative (Result Certificate)
06/03/2007 - Voodoo is Slovakian Champion (Certificate - Diploma)
06/01/2007 - Voodoo is Slovakian Junior Champion (Certificate - Diploma)
05/26/2007 - Voodoo mates the powderpuff girl Ch. BELLA STELLA Hot Chocolate (kennel Family Song's)
27.08.2006 - Voodoo passes the breeding confirmation (fully admitted)
---
Voodoo came here with 8 weeks of age. He was the beginning of the "Chinese Crested Mania". The character of this breed, the appearance, ..... just everything has been convincing us that the breed would be an enrichment for our family. By chance the friend of our vet just had a litter and when the pups were visited with four weeks, it was for sure that Voodoo would come to us. Already shortly after his moving in we knew that he won't remain the only one of this breed here.
Already in puppy class we started to show Voodoo, and one success followed the other. But since he is grown up, it turned to be a little bit harder: More often judges give bigger dogs the priority and the standard sized are placed behind. That is why we put a bit back and are a bit less in the show ring with Voodoo at the moment. In June 2006 Voodoo turned to be Slovakian Junior Champion as well as Slovakian Champion. The next title we aim at is the Slovakian Grand Champion ..... there is only missing one more CAC ..... hopefully we can manage this some time. In September at the Slovakian National Specialty Voodoo was awarded Third Best Chinese Crested Male Slovakia 2007 by the Slovakian Chinese Crested Club. An unexpected success!
Also Voodoo is a very social dog and has no problems either with bigger or smaller ones. He is incredibly affectionate and cuddly and would love to just cuddle all day long. As he grew up with the Briards, he thinks he is a very big one.
On September 23, 2018, Voodoo went over the Rainbow Bridge, he peacefully fell asleep forever. His cremation took place a day later in my presence, and 2 hours later I could take his urn and the pendant for the rearview mirror home.
Rest in peace little man, you have been the rist of this breed and you left the same way as the first of my Briards. Thank you that you saved me the trouble of going to the vet. Till then ......